General
What is EuroPython?
EuroPython was the first major Python programming language community conference ever organised by volunteers. It started in 2002 in Charleroi, Belgium, which attracted over 200 attendees.
It now is the largest European Python conference with around 1200+ participants every year, one of the largest Python conference world-wide and a meeting reference for all European programmers, students and companies interested in the Python programming language.
Please also have a look at our "About" page for more details.
How and when will EuroPython 2021 be run?
EuroPython 2021 will be run as an online event, similar to what we had for EuroPython 2020. The main difference will be that we'll try to come closer to the in-person event, meaning that we'll again have a full week of content,
from July 26 - August 1:
two workshop/training days (July 26 - 27)
three conference days (July 28 - 30)
two sprint days (July 31 - August 1)
We will schedule the sessions in a way which makes them accessible for Asian and Americas time zones in addition to European time zones.
Which technology will you use?
In 2020, we used a combination of Zoom Webinars for audio/video and a Discord Server for chat and sprints. We are reevaluating the technology for 2021 and will try to enhance the navigation to give you a better user experience.
Please have a look at our "Setup" pages for more details.
How can I help with the conference organisation?
Please have a look at our workgroup page and sign up: http://www.europython-society.org/workgroups
Why an online conference?
Due to the COVID-19 crisis, we were forced to postpone the in-person event we had planned in Dublin, Ireland, to next year. Instead of not having a conference at all, we then decided to migrate the in-person conference to an online event for this year and are setting up things for this format instead.
You will be able to join the conference via your PC/notebook/tablet/mobile. The talks will be presented live and you will get a chance to ask questions, discuss the talk on a chat platform and connect with other attendees virtually.
We will also have keynotes, sprints, tutorials and lightning talks this year; just like in an in-person conference.
As online conference costs are lower than for the in-person event, we are able to lower and simplify the ticket setup. The conference days will require a paid ticket. For the sprints, we decided to make them entirely free. Training sessions, just like for the in-person event, cost extra. If you want to attend the trainings, you will have to purchase a combined ticket. More informations here.
How can I attend the online conference?
For attending the conference, all you need is a computer or mobile device and install a conference app, or join using a Chromium based browser (this lacks a few features, but it otherwise usable).
If you want to participate using video or audio, you will also need a headset and a webcam.
In case you still need help, please contact helpdesk@europython.eu
I love what you're doing. How can I sponsor this great event?
You will find all the information needed at our sponsor page.
If you need any extra information, please contact us by sending an email to sponsoring@europython.eu
Tickets
When will ticket sales start ?
We are planning to open ticket sales later in April. Due to the change in tooling, this is delayed -- we had wanted to start sales early in March, but now have to change a lot of details and setups. Please check our blog for details or proceed directly to the registration page.
Note that we are not yet set on whether we'll have early bird prices this year. Please stay tuned for updates on this.
What will the ticket prices look like?
We are aiming at a very simple ticket structure with much lower prices than an in-person event.
As always, we will make announcements on our EuroPython Blog.
Sprints will be free to attend. Tutorials will have a small extra charge.
Will you have a financial aid program for EP2021 ?
Yes, please check the relevant page on our site.
How can I buy my ticket?
Once we start selling tickets, you will be able to purchase them from our registration page.
We have the following ticket types available:
Combined tickets are valid for the workshop and training days (Jul 26 and 27), the conference days (Jul 28, 29 and 30) and the sprint days (Jul 31 and Aug 1).
Conference tickets are valid for the conference days (Jul 28, 29 and 30) and the sprint days (Jul 31 and Aug 1). They may also include any sponsored training sessions on the training and workshop days and the Beginners' Day workshop, should we be able to organize one. Other training sessions or workshops are not included.
Sprint tickets are valid for the sprint days only (Jul 31 and Aug 1). They are free of charge.
As usual we have
Business ticket if a company is paying for your ticket and you need a proper VAT receipt (the personal tickets do not include a company name).
Personal ticket if you are using Python as a hobby, as a freelancer or student and don't need a VAT receipt.
Please note that business tickets support EuroPython Society's mission to help the European Python community with grants. We would like to encourage companies and professionals to purchase the higher-price tickets. We assure you that your contribution will be put to good use. Thank you!
Tickets are bound to named individuals and cannot be shared during the conference, but you can reassign them to other people prior to the event (see below for details).
Which payment options do you support?
Our website supports the payment option of:
Credit or Debit cards (via Stripe)
Please note that we do not support other payment options such as bank transfers directly to our accounts or purchase orders.
While the above option usually works fine, we have had a few reports about failures when trying to purchase tickets from abroad. We list them here to inform you of such known issues:
We have had some reports from people in France having problems with their VISA cards. Some banks apparently have fraud prevention filters in place which prevent Stripe payment. Please get in touch with Stripe to find alternatives.
I need to verify the VAT information for the conference organisation. Where can I find the address and VAT-ID?
The EuroPython Society is invoicing for the tickets. Since the conference is held online, it is taxed in Sweden. Since we are a non-profit organisation, the tickets will be exempt from VAT.
Sponsors are invoiced directly by the EuroPython Society in Sweden and VAT is reverse charged. Please see the EPS About Page for details.
I bought the ticket for someone else. How can I re-assign it?
If you are the buyer of the tickets, you can assign the tickets to other people, e.g. in your company.
In order to assign tickets, the people you want to assign them to need to have an account on our system. Please tell them to register with the EuroPython website and provide you with the email address they used to register.
Once they have registered and you have the email address they used, you can then go to the ticket section and reassign the ticket:
Click on "Assign ticket" and then enter the email address of the person to assign the ticket to:
Clicking save will then transfer the ticket to the new user.
Is there anything I have to do to configure my ticket?
Since we're running an online event for EP2021, there isn't much we need from you for the ticket, but for the in-person event, the following details are useful for us to plan for catering and the t-shirt orders...
If you have bought a ticket or have been assigned a ticket, please check the configuration of the ticket, so we will use the correct details for printing badges, arranging catering and t-shirt counts, etc. 
This will take you to a form where you can configure the name as it should appear on the ticket, expected days of attendance and a (funny) tagline. Here's an example dialog: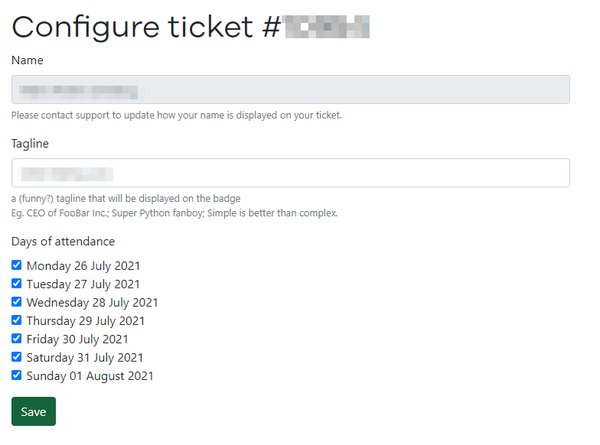 I forgot to download my invoice. Could you please remind me where to find it?
If you have bought tickets on the website, you will find the invoices for the tickets on your account page, e.g.
You can download the invoice in PDF format, print and save it to your records.
How can I configure my profile, contact and recruiting details?
The website provides a couple of other dialogs which allow you to configure your account:
The "Profile settings" allow you to edit the profile shown on the website. This is especially important for speakers, since their profiles will be public and associated with their presentations.
The "Privacy settings" dialog allows you to opt-in to recruiting emails from our sponsors (among other things):
If you happen to be looking for a new job or freelance opportunity, this is a good way to get more information from sponsors who will present in our recruiting session.
I bought my ticket early, but I cannot attend. What can I do?
You can send an email to refunds@europython.eu and let us know. We will fully refund your ticket costs except the administrative (bank, online payments services, etc) costs until June 26th, 2021 23:59:59 CEST.
Please note that we will be processing refunds mostly after the conference, since we will be too busy with other things before and during the conference.
I helped organise the EuroPython 2021 conference as EuroPython WG member. Do you have special rates for volunteers ?
For volunteers who have invested a significant amount of time into organising the conference, they will get refunds on tickets
The refunds depend on the amount of work done and based on the budget the board can set aside for this. Please contact the board for more details.
Will you have t-shirts this year?
We're very happy to announce our very own EuroPython merchandise shop: EuroPython Merch Shop
Since EuroPython 2021 is an online event, we will not be giving out conference bags or t-shirts. Instead, we give you the opportunity to choose among the many products we have put up in the shop, and order the color and size to your desire.
Any profit this creates will go towards the EuroPython financial aid budget, so will be put to good use.
I've bought more than one ticket and now I want to assign it to a friend but the website does not allow me. How should I proceed?
When assigning tickets to others, please make sure that:
a) the other person has already created a user account on our website, and
b) you have the email address the person used for registering with the system.
In some cases, people register with multiple email addresses. Please make sure you are using the correct email address, so that ticket and other details such as talk submission are associated with the same account.
Someone emailed/phoned me trying to sell cheap tickets/accommodation. Was that you?
Unfortunately, over the years, a few scammers have started using information from our website to contact people and try to fool them into buying e.g. cheap plane tickets, hotel rooms or even conference tickets.
Please note that we will normally not email or phone attendees or sponsors directly offering discounts in form of coupons, unless we have already established a prior relationship with them. If you have doubts, please contact our helpdesk@europython.eu before proceeding to get confirmation that the requests are legitimate. Sponsors can contact sponsoring@europython.eu directly.
Accommodation
Ok, I've booked the conference. Where can I stay?
The conference is held online, so there is no need to travel. Please stay at home. Stay safe and stay healthy :-)
Visas
You don't need a visa for the online event.
Talks, Training Sessions, Posters
I would like to present an interesting topic. Which formats do you have available?
We will have standard conference talks, helpdesks and poster sessions. The formats are explained on our Call for Proposals page.
How can I give a talk at EuroPython?
We will issue a Call for Proposals (CfP) when we're ready to receive talk submissions. Please watch our blog for updates.
Once the CfP is open, you can propose your talk by logging in to the website and going to the CfP page.
Talks will then be voted on by the attendees. A subset will also be selected by the program workgroup members to give less mainstream topics a chance and to enhance the diversity of speakers, if needed (please help us not need this).
Who can participate in talk voting?
To be eligible to vote for talks, you need to be a registered attendee of the current EuroPython main conference, or had been an attendee of a EuroPython conference at lease once since 2015. If you have submitted a proposal this year, you are also eligible to vote. Please note, sprint-only ticket holders will not be able to participate in talk voting.
How can I add another speaker to my proposal?
You may add additional speakers to your proposal only while the CfP is still open. Speakers may not be changed after the closing of the CfP.
Currently you can not do this by yourself, and we have to fix this via the backend. While the CfP is still open, please contact
program@europython.eu
to discuss your options.
Can I rely on Internet during my talk?
Since we're running an online event, you are in charge of your internet connectivity.
As a speaker, we recommend having a backup plan in place in case your regular internet connection goes down. E.g. you could use a mobile connection or a friends or neighbours wifi.
Do I need video adapters for my talk?
No, everything will run on your PC/notebook. All you need to do is potentially install the conference system application. For this year conference, we are testing an in-browser solution for both speakers and attendees. This way nobody will have to install a separate application. Please check this space and our blog for updates.
If you are speaking, please test your notebook, headset and webcam with the conference application/website before the conference. We will give one-to-one instructions for speakers and provide a test setup for this.
Please also check our tips for speakers page.
Do I have to print my poster?
No, you only have to provide it as PDF to the organisers. Posters will be made available on the website in a gallery page.
What size should be the posters?
Posters should be portrait DIN A0 sized: 84.1cm wide × 118.9cm high. Please only use a single page.
Where will be the poster session?
We will arrange separate virtual rooms for each poster, so that the speaker can directly interact with the attendees.
I have submitted a talk, but would like to make some edits. How does that work?
Please log in to the website and navigate to your user panel  (click 'My account' in top right). At the bottom of the page you should see a list of talks you have submitted. Clicking on each of these links will take you to the appropriate talk page where you can edit the talk description.
Where can I upload my talk slides / poster?
This is possible on the EuroPython website:
Please log in to your account, then navigate to your talk page.
This should show two buttons under the talk description:

Click on "Submit slides"

In the dialog, you have the option to upload a PDF with your slides / poster, point to a URL which has your slides, or point to a repository which has your slides
Please note that we may need to use your uploaded slides as a backup in case your Internet connection goes down or there are other problems, so make sure that the slides can be shown without too much setup. Best is to have a PDF available.
Will I get a discount if I get selected as speaker or trainer?
Yes, we will make the following refunds available for speakers:
100% refund on your conference ticket for speakers

100% refund on your combined ticket for trainers.
We do recognise that preparing a tutorial entails significant work. For this reason we are investigating the possibility of a special thank you gift to our trainers. We will contact you individually if we come up with something. COVID-19 makes these sort of things more complex to organise that we would like, unfortunately.
We will send out coupons to all speakers/trainers of accepted talks and other session types.
For those of you who have purchased tickets before the schedule is announced and thus cannot use the coupons, we will be refunding the corresponding amount after the conference upon request.
In order for us to issue the refunds, please provide us with your details by sending us an email at  refunds@europython.eu.
Refund coupons which are not used and speaker/trainer refunds for already bought tickets which are not requested until one week after the conference (Aug 8, 2021 23:59:59 CEST), will be put to good use and automatically go into the financial aid budget for next year's conference.
Must I sign the video recording and publishing agreement?
To simplify the organisation, we ask all speakers to accept the video recording and publishing of their session. We are aiming to have all talks and similar sessions recorded. We do understand that most trainers prefer not to have their session recorded (for understandable professional reasons) and we will honour their preference. Training sessions will thus not be recorded and trainers do not need to sign the release agreement.
Lightning Talks
A lightning talk (LT) is a short presentation which must not be longer than five minute.
To sign up for a lightning talk, we will set up a separate form or Google sheet for you to put your name and topic in - similar to how we run this at the in-person conference.
Signing up is on a first-come-first-served basis. The queue is reset every day in the morning.
You may talk about / present (almost) everything with certain boundaries:
no promotion for products of companies, no call for 'we are hiring' (but you may name your employer).
conference announcements are limited to one minute only
one LT per person per conference policy: everyone who has not given a LT at this year's conference, yet, is ahead of you in the queue
keep it short, the shorter the presentations, the more people can give a talk