Sprint tickets are free this year!
This is a great chance to get to know open source or to promote your open source project.
Sprints will be run on the conference weekend: Saturday & Sunday Jul 31 & Aug 1 online.
EuroPython 2021 Sprints Listing
As is tradition, sprints are not organized by the conference organizers, but instead run by the attendees who want to put on a sprint. We only provide the virtual rooms and guidance on how to run the sprints.
What is a "Sprint" ?
Most open source software development happens on the web and developers usually communicate online only when working on projects. This usually works out fine, but the lack of live meetings can sometimes be a limiting factor in making good progress.
For this reason, a form of impromptu coding meetups called "sprints" or "hackathons" (outside the Python community, the term "hackathon" is more common) were initiated, where developers interested in a project can get together for a short period of time to make quick progress. Since conferences provide the perfect occasion to meet, sprints are made part of the conference program.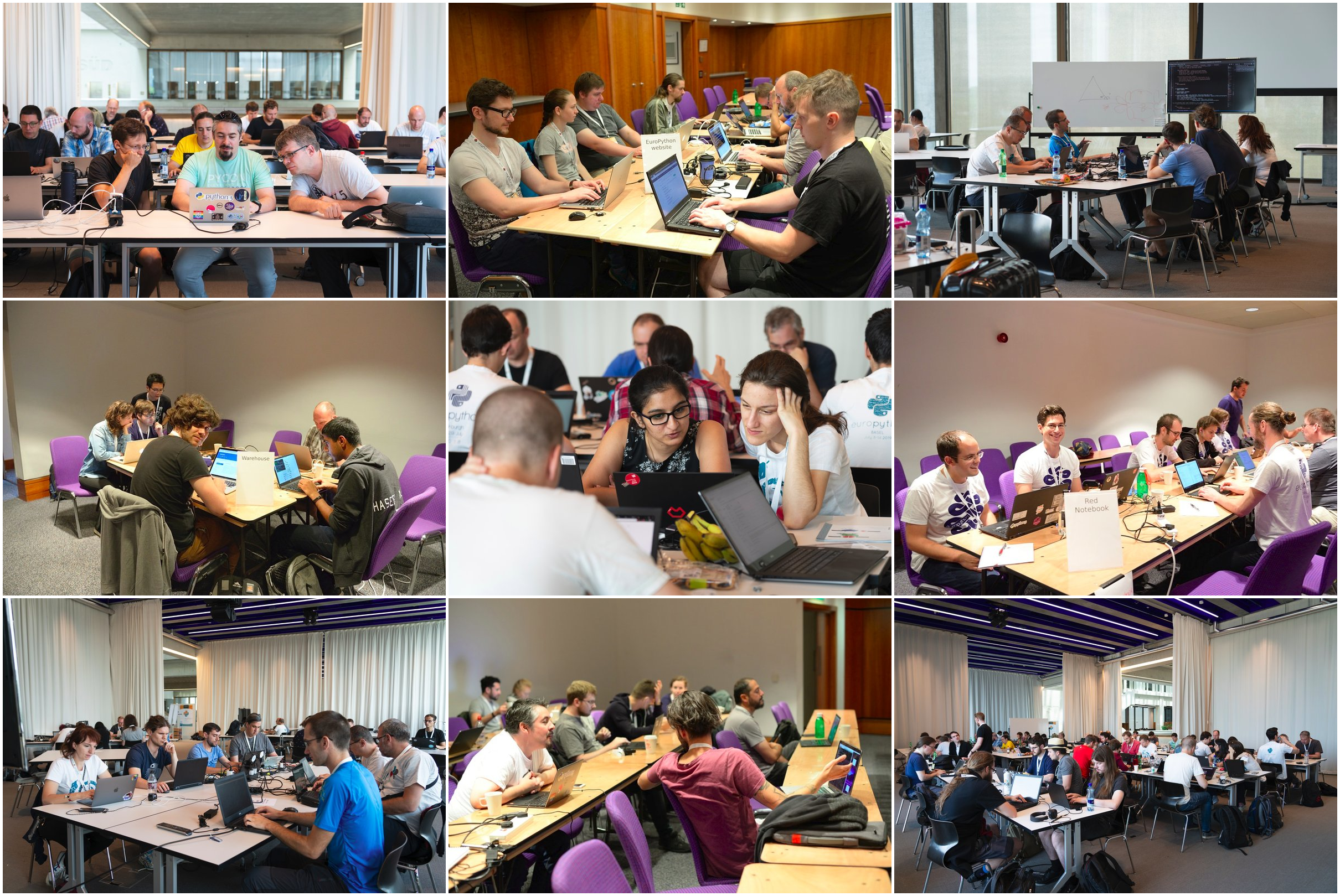 Pictures of sprints from EuroPython 2018 and 2019 (in-person events)
EuroPython 2021 Online Sprints
EuroPython has had sprints ever since it started in 2002. This year we will have a sprint weekend, where developers can join to work on interesting things. It is also possible for people interested in a project to join in for the first time at a sprint. The setup and management of the sprints is solely up to the sprint teams running the sprints.
We will have a sprint introduction session on Saturday morning. If you want to join a sprint team, attending this session is a good idea.
Since we're running EuroPython 2021 as an online event, we made attending the sprints free of charge, so you won't need a ticket to join.
Organizing a Sprint
If you are planing to run a sprint at EuroPython 2021, please add an entry to the public Python.org wiki page we have for this:
EuroPython 2021 Sprints Listing
You do not need to create an account for this. Simply click Edit (GUI) or Edit (Text) to add an entry.
Remember to announce it on the social channels too!
Note: If you want to add a per-sprint page, you will need editing permission to the wiki. Please see the wiki front page for instructions (near the bottom of the page) on how to get those permissions. You don't need these permissions for adding a sprint.
Many thanks !
Sprint days setup
On the sprints days Saturday and Sunday we are not going to follow a fixed schedule. The organizers will provide the framing, but you as a sprint team, will have to run the sprints in a self-organized way.
Sprint Opening Session
In this session, we are going to present the various sprint teams.
Please have a 2 minute intro prepared for each team. We will then call you in to present the sprint team topic.
We will prepare sprint channels for each sprint listed on the sprints page. It is possible to add additional sprint teams on the sprint days if needed. Just let us know that your sprint team has not yet been setup (see below).
We will have more precise instructions closer to the conference.
Sprint Sessions
We have two morning sessions, two afternoon sessions and might add two late night sessions for the Americas timezones on both Saturday and Sunday.
End of Day Presentations
Since it's always fun to show what you've been working on, we will have end of day presentations. We added two sessions per day, so that people get two chances to present their results.
Sprint Hallway & Announcements
In order to connect across sprint teams, we'll use a common chat channel that we will setup closer to the conference.
Technology we can provide
We will provide the following tooling for the sprint teams:
one text chat per team
one video / audio channel per team; this should work with up to 15-20 people
We also have a number of Zoom licenses available for larger teams or temporary use for sprint presentations. Please ask an organizer for help.
Of course, you are free to use any other tools you like as well. We'd just like to make sure that it's easy for new sprint attendees to find the main sprint team chats, so would like to see that the text chats are staffed throughout the sprint or at least contain references to where to find the team.
If your sprint team channels have not yet been setup, please contact an organizer for help.